THE 4XL MOBILE STAGE 50×40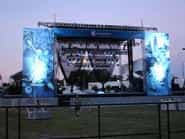 TRAILER

Weight   55,000lbs

Length   53\'
Width     8\' 4\"

Height    13\' 3\"

STAGE

Total Space

Length   50\' 
Width     40\'

Stage Height   6\' 6\"

Roof Height    38\'

Floor Load 100lbs/sq ft

Installation time    4 Stagehand/180 minutes

32,000lbs Even Roof Load

6000lbs Sound Wings per side
The 4XL Mobile Stage is the largest rental mobile stage available on the market in the United States. This stage sets up by four people in 3 hours and can fly any line array system at 6000lbs per sound wing. 

This roof can hold 32,000 pounds of production equipment.

If you are looking for a large scale professional stage that is raw power this is the perfect stage for your event.