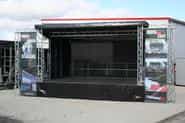 TRAILER

 Weight 5730lbs

Length 27\' 
Width 8\' 3\"

Height 11\' 10\"

STAGE 

Total Space 
Length 22\' 4\"

Width 20 \'8\"

Stage Height 3\' 6\"

Roof Height 15\' 
Floor Load 100lbs/sq ft
The L Mobile Stage is one of the most requested stage in our worldwide network. This stage sets up by one person in 25 minutes and has many uses. 

It is perfect for street festivals, rock bands, DJ\'s, Front of House Mix Position, Camera Position, Live Broadcast Booth and more. 

If you are looking for a decent size stage but have a limited budget this is the perfect stage for your event.