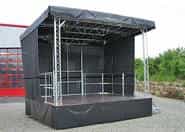 TRAILER
Weight                             3970 lbs
Length                             21\' 8\"
Width                                7\' 5\"
Height                               9\'
STAGE
Total Space
Length                            14\' 6\"
Width                              12\' 4\"
Stage Height                      3\'
Roof Height                      14\' 6\"
Floor Load                   100lbs/sq ft
The S Mobile Stage is the smallest mobile stage available for rental in North America. This stage sets up by one person in 15 minutes and has many uses. 

It is perfect for small street festivals, small entertainment areas, DJ\'s, Front of House Mix Position, Camera Position and more. 

The wind wall is a great asset to the stage, in case of high winds or rain, you are very well protected.