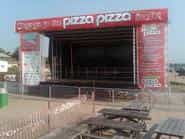 TRAILER

Weight   6800lbs
 Length   32\'
Width    8\' 3\"
Height   13\'

STAGE

Total Space 
Length   26\' 
Width    20\'

Stage Height    4\' 7\"
 Roof Height     20\' 8\"

Floor Load 100lbs sq ft

Installation time    1 Stagehand 35 minutes

2500lbs Even Roof Load

2000lbs Sound Wings per side
The XL Mobile Stage is the most requested stage in our US network. This stage sets up by one person in 35 minutes and can fly virtually and line array system. 

It is perfect for street festivals, rock bands, DJ\'s, live broadcast booth,  concerts, tours and more. 

If you are looking for a medium size stage this is the perfect stage for your event.