THE XLR MOBILE STAGE 30×20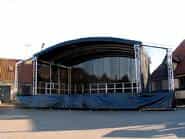 TRAILER
Weight   7720lbs

Length   35\'
Width     8\' 4\"

Height    13\'

STAGE

Total Space

Length   30\'
Width    20\'
Stage Height   4\' 6\"
Roof Height    17\' 9\"

Floor Load 100lbs/sq ft

Installation time    1 Stagehand/40 minutes

Load Bearing 2000lbs Main Roof

Sound Wings 2000lbs/side
The XLR Mobile Stage is the only curved roof mobile stage in the world. This Mobile stage rents easily. The round mobile stage sets up by one person in 40 minutes and can fly virtually and line array system at 2000lbs per sound wing. 

It is the type of stage that makes  very big impression on sponsors. 

If you are looking for a very unique look this is the perfect stage for your event.